LOCK DOWN YOUR SPECIAL RATE – RENT NOW!  ON THE FENCE? NO SWEAT. RESERVE A UNIT FREE TODAY. 
Climate-Controlled Storage
It can get hot in your storage unit, but did you know that the heat can have an adverse effect on your stored goods? Rapid changes in temperature – as well as extreme heat – can cause mold growth, which can damage your photographs, artwork, records, files, and upholstered furniture. Climate-controlled storage can combat this. At StorQuest Self Storage we maintain these units within a set temperature range to ensure that your storage locker isn't subject to major swings in temperature.
To learn more about our climate-controlled units, or any other units offer for rent at StorQuest Self Storage in west San Rafael, contact our leasing office for more information or to schedule a tour.
Self Storage Units in
San Rafael, CA
Small, medium, and large storage units are available for rent at StorQuest Self Storage in San Rafael, CA. Our facility offers residential, commercial, and professional wine storage services. Each of these units varies in size from 3X1 (3 sq. ft.) to 10X20 (200 sq. ft.). Our wine storage units specifically are offered in sizes 2X2 (4 sq. ft.) through 5X3 (15 sq. ft.). Each of these units are both temperature and humidity-controlled to protect your valuable collection. They are also equipped with swing doors.
For residential and commercial storage, many of our units feature drive-up access and roll-up doors. Wide driveways and enhanced maneuverability are a hallmark of StorQuest Self Storage. We make it easy for your moving trucks to enter and exit our facility.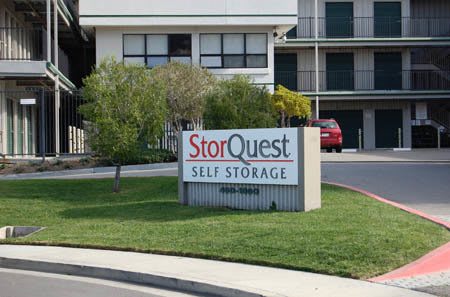 Each of the storage units at StorQuest Self Storage in San Rafael is available on a month-to-month lease. Contact the on-site manager for information on our long-term storage discounts.