StorQuest ambassador, Laura Friedland, spent seven months biking across South America with nothing but the essentials strapped to her handlebars. We sat down to chat with her about all the deets.
Not too long ago you came back to Denver, Colorado, from a seven month adventure on two wheels – tell us a little bit about where you went and what you were doing!
I set out to ride my bike from Medellin, Colombia, to as far south as I could make it! I spent the first two and a half months touring Colombia, Ecuador, and Peru with my best friend, and then continued on by myself after she went home. This was my second time bike touring – the first was in Cuba – and it did not disappoint! I made it down to the southern tip of Chile, and Punta Arenas is where I finished the trip. I met many friends – both travelers and locals – along the way, and I feel lucky to have had the opportunity to travel for so long...and by bike.
We're sure you have countless stories, but if you could pick your most epic memory from the entire trip, what would it be?
Without a doubt, the most epic memory I have from the trip is climbing a biker-only mountain pass at 16,400 feet in the Cordillera Blanca in Peru. The route, a loop in Huascaran National Park, is famous for its high alpine views and mandatory 30 switchbacks to reach the top of Punta Olimpica. The amazing thing about riding here is that you are biking at an altitude where most places in the world only allow you to hike or mountaineer. There is a paved road that ends at a tunnel for cars, but with a bike you can climb another 400 feet higher through an old pass covered in rocks and boulders. The views are like nothing I've ever experienced!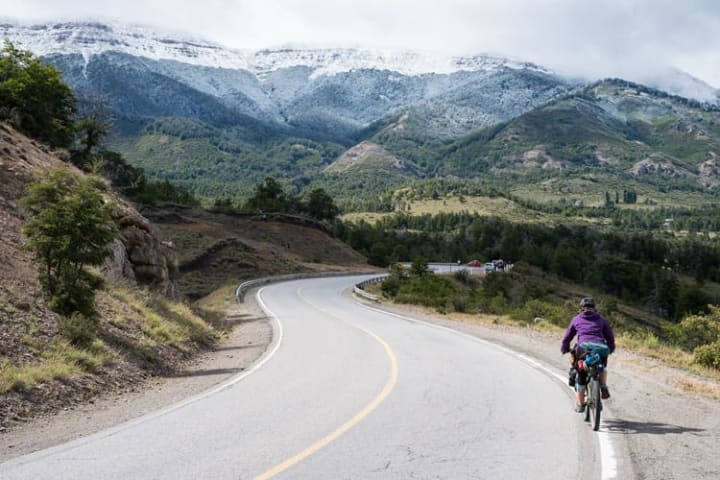 An adventure like this takes tons of preparation. What are the top three things you're glad you brought along with you?
Indeed! It took a few months of gathering gear and asking a lot of questions to folks I met who were experts in the realm of bikepacking. My top gear picks are:
Sea to Summit eVent Compression Dry Sack: This was the dry bag I used to hold everything but the kitchen sink. My sleeping bag, sleep sack, pillow, sleeping pad, llama sweater, a pot, and a bowl. All of these things stuffed into the bag and strapped to my handlebars. When you see how big that bag is, you'd never believe what's inside it.
Oveja Negra Chuckbucket Handlebar Snack Bags: These little bags that attach to the handlebars were so clutch for storing things like cans of tuna (one holds five), tubes of trail mix, external batteries, camera, and my phone.
Garmin InReach Explorer: While I had a phone with me for navigation, my Garmin InReach served as a communication device to reach my friends and family when I was off the grid. I used this to send daily messages that included an "I'm okay" message and a pin of my location. This helped me (and my mom!) feel safe when I was spending weeks by myself in remote places.
Not everyone can say they have biked as many countries as you have. That's pretty unique! How is exploring by bike different from other forms of travel?
Traveling by bike is the best! I've done a few backpacking trips around South East Asia and Europe, and nothing beats riding a bike. The bike removes the barrier of a car or a bus from you and your environment. You can stop whenever you feel like it to snap a photo, smell a flower, or chat with a person who wants to know more about your bike. I was amazed by the generosity of other travelers and locals I met who wanted to help me by giving me food when I was in the desert, or a place to sleep when the sun was setting. The bike opens up many more opportunities for meeting people.
Before you left, you enlisted StorQuest to get ready. How did having a self storage unit help you prepare for your big trip?
StorQuest was essential in leaving behind all of my belongings. I figured I'd come back at some point to live in a house again, so I didn't want to sell all of my things. It was really seamless in setting it up and I was able to make far too many trips there before my departure. 
What you did is a bucket-list item for a lot of people. What made you ultimately decide to go for it and what advice would you give to someone that wants to drop everything to travel?
My one piece of advice would be to not listen to people who tell you your dream is a bad idea, or too dangerous and risky. Make sure you do the research for yourself and understand what's truly involved with the trip you'd like to do before you rule it out. We tend to consume news stories that were crafted to captivate (and scare) us, and those stories are rarely an accurate representation of an entire country. Talk to people who have been where you want to go – find a Facebook group or do a Google search. 
If you're afraid to drop everything and travel (just like me!), that only means you will learn so much along the way. Trust the process and know that getting up and leaving is the hardest part of the journey. Once you hit the road, the possibilities are endless.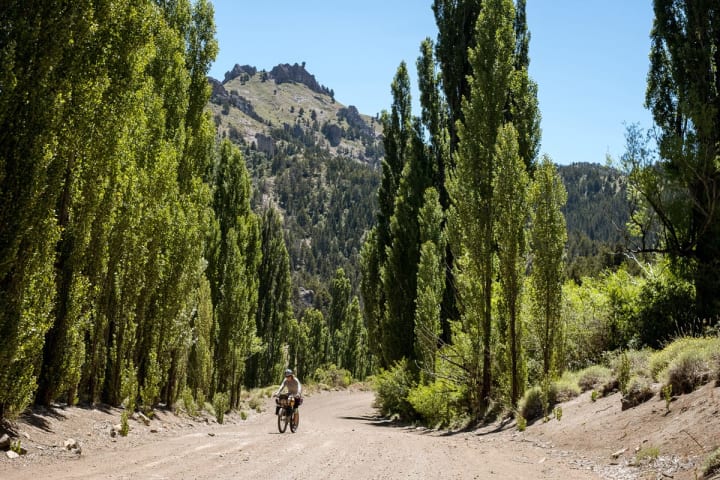 The stories you tell on your blog are incredible. How has a trip like this changed you now that you're back home?
Now that I am home, I am looking for ways to derive meaning from my trip. In some ways it feels like it never happened, which is a scary thought! To keep the adventure alive, I am planning more bikepacking trips and continuing to take Spanish lessons. I want to stay connected to the cultures and values I connected with on the road so I am doing my best to cultivate that at home. 
So, what's next? Where is your next adventure going to take you?
Always the question! Right now I am going to buckle down and work so I can save more money for the next adventure. I'd love to travel in Portugal, Switzerland, or Japan next. 
Your Ultimate Adventure + StorQuest
At StorQuest, we always have your back. Whether you're gone on a cross-continental trek or looking to move your business across town, we have what you need to get things done and head out for your next adventure. Find a StorQuest near you and make room for awesome today.