LOCK DOWN YOUR SPECIAL RATE – RENT NOW!  ON THE FENCE? NO SWEAT. RESERVE A UNIT FREE TODAY. 
Self Storage Units in
Westlake Village, CA
The self storage units in Westlake Village, CA, at StorQuest Self Storage come in a variety of sizes. Many storage units have high ceilings and are drive-up accessible, making our Westlake Village self storage facility as convenient as possible.
Large storage units are perfect for storing the contents of a three to five bedroom home, or for commercial storage purposes. Medium storage units best store the contents of a one to two bedroom apartment. Smaller units store seasonal recreational equipment and boxes, all the way up to the contents of a studio apartment.
No matter what type of business you have, we have a commercial storage unit perfectly equipped for your specific needs.
StorQuest offers ground-floor self storage units in Westlake Village, CA.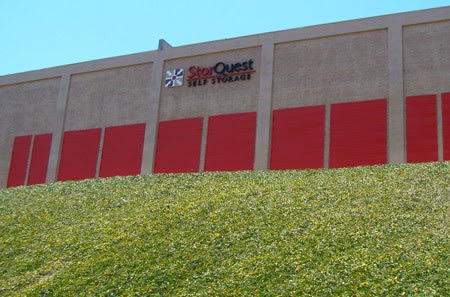 Ground-floor units are desirable as they eliminate the hassle of having to move heavy furniture and large items up stairs.
We also have climate-controlled self storage units to help maintain your vulnerable stored items. The buildings that hold our climate-controlled units are kept between a certain temperature range to prevent temperature shifts that can lead to mold and mildew.
Climate-Controlled Storage
Depending on your business storage needs, StorQuest Self Storage can accommodate your company. Smaller and climate-controlled units perfectly store and protect your files and documents that have been taking up too much space in the office. Medium and large units work best for commercial and business storage, especially when storing excess inventory and extra equipment or tools. Companies needing a place to keep excess inventory and upholstered furniture should consider our climate-controlled storage options in order to protect and preserve their items.
Contact us for more information about our Westlake Village self storage units and to learn more about climate-controlled storage.